Philips Compact Disc Digital Audio represent an outstanding advance in audio technology. It enables standards of reproduction, previously unattainable through traditional recording, mastering, and replication methods, to become a reality. This has been made possible through the development of techniques and equipment which enable audio information to be converted into a digital format, and transferred by optical means onto a disc. To achieve this breakthrough, Philips has used what is possibly today's most advanced tool...the laser...both in the Compact Disc Player itself and also in the mastering process. In addition, our extensive experience in audio technology, plus Philips worldwide research and development facilities have been combined to realise our aim for the optimum in sound reproduction...
Compact Disc Subcode Processor/Editor
Generates CD-PQ cue code data for recording onto digital audio master tape, via keyboard-input, from written from or during master tape editing.
Reads CD-PQ cue code data coming from the digital audio tape master
Full editing possibilities on CD-PQ subcode cue information
Automatic generation of CD-PQ Subcode data according to CD-standard
Remote control of tape master recorded
Hard copy output for printer
IEC controllable (IEC-625)
Video display of all relevant data
Expandable to the CD-subcode channels R...W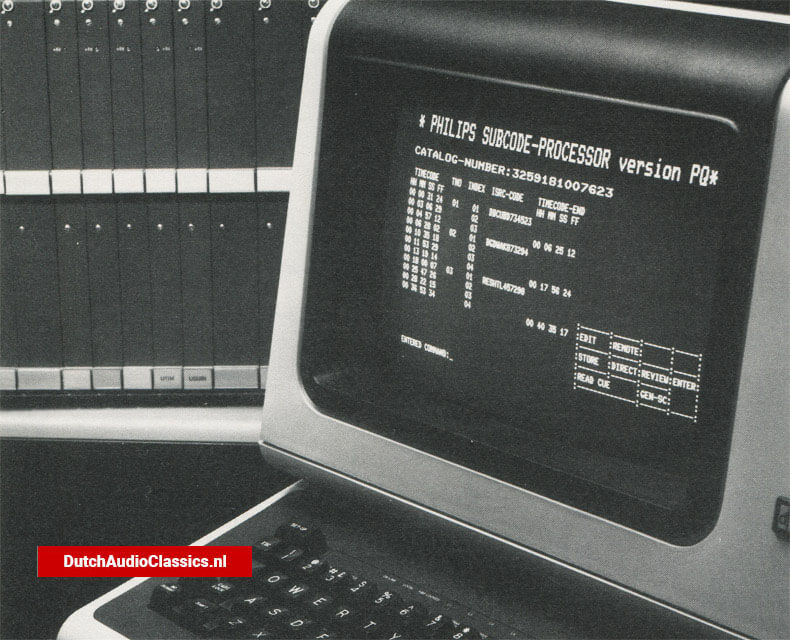 The Philips LHH0425 Compact Disc Subcode Processor/Editor provides a reliable and efficient way of generating and editing CD-PQ cue code data. It also enables this data to be translated into the standard CD-Subcode format required by a Compact Disc Master Recording System.
Comprehensive capabilities
The Philips LHH0425 generates CD-PQ cue code data during tape master production or from PQ cue information, which can be supplied in written form, using an alpha-numeric keyboard. Cue points (indicating track numbers and indices) can also be entered during playback of the master tape, together with an SMPTE-timecode from an external reader/generator (EECO standard). The generated PQ cue code data can be stored on a digital audio master tape, which features three separate channels - audio, SMPTE-timecode and PQ cue code data.
Editing facilities which enable altering existing CD-PQ subcode cue information are also provided, with all relevant data being available for display on a video screen. The unit can also be linked to a hard copy printer, enabling a complete listing of a tape master's content to be provided. CD-PQ subcode cue information can be accepted from a digital audio tape master and/or via a keyboard input.
In the CD-Disc Mastering Process, this information, together with SMPTE-timecode data is processed automatically to provide the standard CD-Subcode. This includes information such as a talbe of contents which appears on the CD-lead-in area of the disc, time information, track numbers, and indices.
External connections
The Philips LHH0425 can handle all the remote control functions of a tape master recorder, via a 10-bit parallel interface. A 28-bit parallel interface is used for connecting an external SMPTE-timecode reader/generator (EECO standard). Generated Subcode data + Subcode frame sync is available on a 9-bit parallel interface. This requires an external 7.35kHz sync signal from the encoder of the Compact Disc Master Recording System. It also enables reading and writing of the CD-PQ cue code data to the digital audio tape. The interfaces ensure that all external devices are galvanically separated from the Philips LHH0425.
Easy installation and servicing
The Philips LHH0425 Compact Disc Subcode Processor/Editor has been designed for use as a bench-mounted unit, or if preferred, it can be incorporated into a standard 19"-rack mounting system.
Maintenance and servicing are simplified by the ease of acces to the instruments and its modular electronics.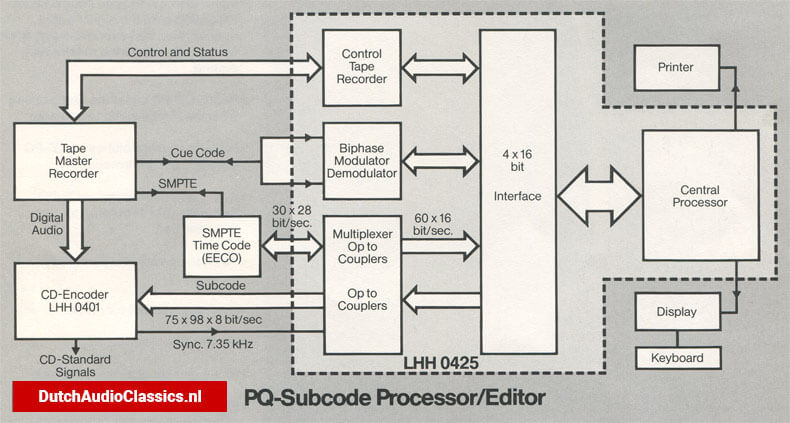 Technical data
Dimensions and Weight:
The housing of the Philips LHH0425 (table top) is an 81TE/6HE Schroff cabinet; 19"-rack mounting is also possible. Height: 280mm
Width: 440mm
Depth: 400mm
Weight: approx. 18kg

Accessories:
User manual; power cord; earthing strap; set of fuses; rack mounting kit.

Mains voltage:
110/220V +/-10%, 60/50Hz +/-4%

Power consumption
90VA

Environmental conditions: Temperature:
- operating: +5C to +45C
- non-operating: -25C to +75C
Relative humidity: 20% to 90% non-condensing
Shocks: max. 10C, pulse duration 6mS


Brochure Philips LHH0425