Philips Compact Disc Digital Audio represent an outstanding advance in audio technology. It enables standards of reproduction, previously unattainable through traditional recording, mastering, and replication methods, to become a reality. This has been made possible through the development of techniques and equipment which enable audio information to be converted into a digital format, and transferred by optical means onto a disc. To achieve this breakthrough, Philips has used what is possibly today's most advanced tool...the laser...both in the Compact Disc Player itself and also in the mastering process. In addition, our extensive experience in audio technology, plus Philips worldwide research and development facilities have been combined to realise our aim for the optimum in sound reproduction...
Compact Disc Encoder
Converts 2-channel digital audio signals to the format requred in a Compact Disc Master Recording System
Generates digital HF-signals for use in automatics (IEC controlled) measurement in quality control and servicing applications
Enables quality control checking of manufactured Compact Discs
Produces the standard Compact Disc HF-signals needed for laboratory testing applications
Choice of manual or remote control (IEC-625 controller)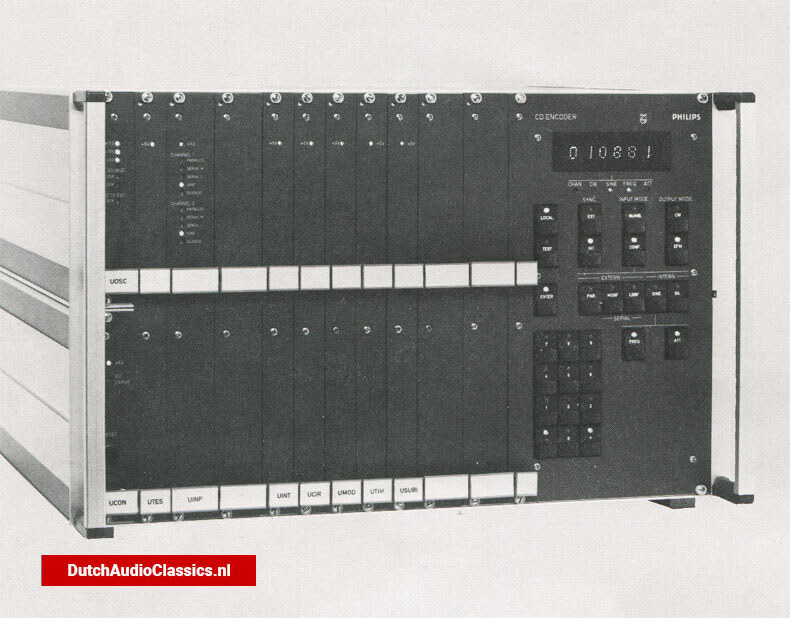 The Philips LHH0401 Compact Disc Encoder provides a reliable and efficient means of translating digital audio and subcode information into the standard format for a Compact Disc Master Recording System. The HF-signals which the Encoder generates can also be used to test the optimal reactions of Compact Disc Players in automatic (IEC controlled) measurements and service applications. In addition, they can assist in checking the quality of manufactured Compact Discs, and in laboratory testing.
Choice of modes
The Philips LHH0401 Encoder offers a choice of five independently selectable digital audio input modes - parallel; serial MSB first; serial LSB first; digital sine; digital silence. Operation can be carried out manually, using the self-explanatory built-in keyboard. Alternatively, remote operation is possible via an IEC-625 controller.


Comprehensive capabilities
Information from any two-channel digital audio source with a sampling frequency of 44,1kHz, is encoded into an Eight to Fourteen Modulated (EFM) HF-signal. the digital information can be encoded from either two 16-bit parallel, or two serial data outpus; for the subcode source, an 8-bit parallel interface is provided, together with the proper synchronised, including PCM-1600 and PCM-1610.
The digital audio sinewaves generated by the Philips LHH0401 range from 10,7Hz up to 22kHz, and are in steps of 10,7Hz. Amplitude ranges from -42dBF up to 0 dBF, in steps of 6dBF.
Further capabilities of the Encoder include the generation of digital silence and HF-test signals. These are logical ZERO, Logical ONE, and SQUARE WAVE on the following frequencies -2160, 1080, 540, 270, 135, and 67.5kHz.
Special data paterns are available on request.
Easy installation and servicing
The Philips LHH0401 Encoder has been designed for use as a bench-mounted unit, or if preferred, it can be incorporated into a standard 19"-rack mounting system. Maintenance and servicing are simplified by the ease of access to the instruments and its modular electronics.
A built-in signature analysing procedure enables the self-testing of the coding, interleaving, and timing functions. An external signature analyser connector is also provided, for service purposes.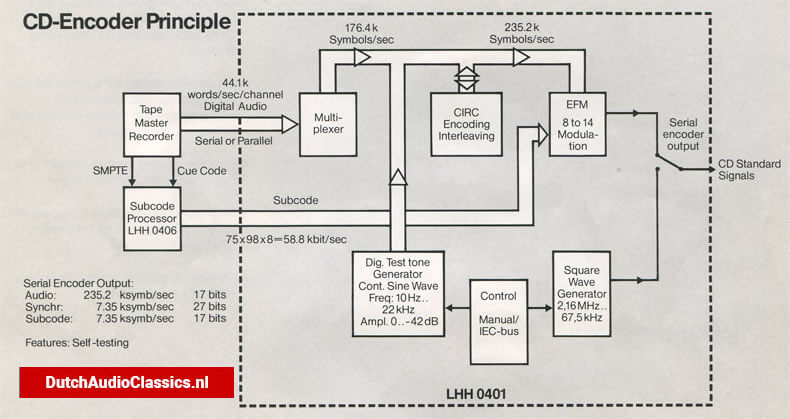 Technical data
Dimensions and weight
The housing of the Encoder (table top) is an 81TE/6HE Schroff cabinet; 19"-rack mounting is also possible
Height: 280mm
Widht: 440mm
Depth: 400mm
Weight: approx 18kg


Accessories
user manual; power cord; earthing strap; set of fuses; rack mounting kit

Mains voltage
110V/220V +/-10%, 60/50Hz +/-4%

Power consumption
90VA

Enviromental conditions
Temperature
- operating: +5C to +45C
- non-operating: -25C to +75C
Relative humidity: 20% to 90%
non-condensing
Shocks: max. 10G, pulse duration 6mS

Subcode Processor Philips LHH0406


Brochure:
Brochure Philips LHH0401