Marantz receivers - from the state-of-the-art Marantz SR-92 to the Marantz SR-52 - have many things in common. The most important is a quality of craftmanship and sonic character pleasing to all. Combined with the perfect combination of audio and video facilities, each Marantz receiver has been built with a mind to the future of A/V use. Whether it includes a full Dolby Pro Logic surround system or dual antenna inputs for cable FM reception, the attention of Marantz to detail guarantees a rewarding entertainment experience.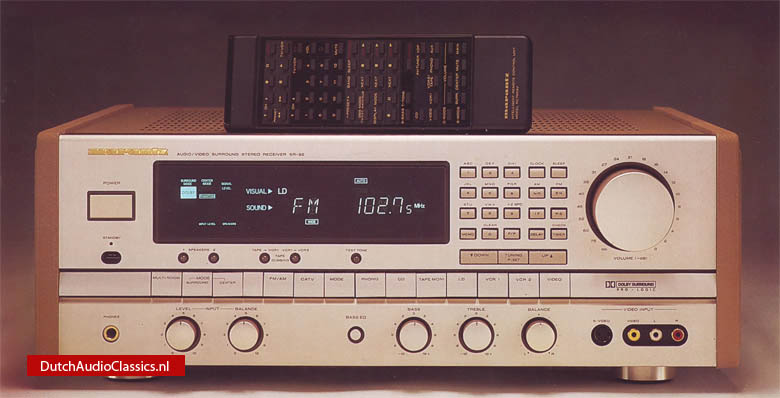 With Marantz's 1992 line of receivers users will never find themselves forced to choose between a desired level of sound quality and convenience features. If you want to simply listen to your favorite radio station or to watch a laserdisc with a Dolby Surround sountrack -Marantz has the receiver you're looking for.
The Marantz SR92 Dolby Pro Logic surround receiver is ideally suited as the centerpiece of a superb audio/video system. The Marantz SR92 combines flexibility, ease of use, and state-of-the-art audio circuitry guaranteed to provide an exhilarating home theater experience. Designed to meet the demands of the serious A/V consumer, the Marantz SR92 offers total audio and video integration in an intuitive package with clean styling and a smart alphanumeric display.
The Marantz SR92 features a newly developed high-performance Dolby Pro-Logic decorder chip that separates the two channels of stereo audio from movie soundtracks, and derives left, center, right, and surround channels. With the high serparation accuracy and pinpoint placement of music, dialogue, and surround-sound effects created by the Pro-Logic system, you'll never again watch videotapes or laserdiscs without its benefits. The Marantz SR92 allows easy setup and balancing of the Pro-Logic system via the remote control and the built-in Dolby test-tone generator.
While many other Pro-Logic components "cheat" by only providing a "phantom" center-channel, the Marantz SR92 incorporates a full five separate amplifier channels to drive the main left and right speakers, a center channel speaker, and a pair of surround speakers. At 8 ohms, power output is 110 watts per channel main left and right, 75 watts for the center channel, and 35 watts for the surround channels.
The Marantz SR92 includes a full complement of audio and video input/output switching facilities, including both composite and S-type video inputs and outputs. A bass EQ function also is provided to enhance your speaker's bass response when wathing movies.
The Marantz SR92 also includes a multi-room mode that allows users to listen to different program source in another room while monitoring a different program in the main listening room. For example, you could watch a movie with Dolby Pro-Logic soundtrack in your main listening room, while someone else listens to their favorite CD in the bedroom. Or, you might listen to a tape in the main listening room while someone else is monitoring an FM broadcast in the bedroom.
The optional Marantz IR92 kit contains a multi-mount infrared receiver and a remote control for the system's secondary sound location. The Marantz SR92 is finished in gold with matching side panels, and is supplied with a universal "learning" remote control.
Features:
- AM/FM/FM stereo receiver
- Dolby Pro Logic surround sound
- 110 + 110 watts main left/right
- 75 watts center
- 35 + 35 watts surround
- Multi-room operation of different sources
- Adjustable digital delay
- Five separate amplifiers
- Pre-out/Pre-in access to all amplifiers
- NRSC AM section
- S-Video inputs/outputs for high-performance video sources
- Programmable remote control
- Subwoofer output
- RC-5 compatible
- Dual atenna inputs for cable FM reception
- Wide/Narrow FM selectivity
- High-current banan-plug speaker jacks
- Multi-room output with optional IR-92 remote sensor
Specifications Marantz SR92:
Power output per channel
Main (8 ohms / 20Hz - 20kHz): 110 + 110 W
Surround (8 ohms / 40Hz - 20kHz): 35 +36 W
Center (8 ohms / 40Hz - 20kHz): 75 W
EIA Dynamic Power Output (2 ohms): 240 + 240 W
Total Harmonic Distortion (8 ohms): 0.09%
Useable Sensitivity (I.H.F., Mono): 13.5dBf
50 dB Quieting Sensitivity (Stereo): 35.2dBf
Capture Ratio: 1dB
Alternate Channel Selectivity (Wide/Narrow): 60/70 dB
FM Stereo Channel Separation at 1 kHz: 40 dB