Marantz SC-22 Music Link controller
The Marantz Music Link series was designed with a specific goal in mind: To provide absolutetly state-of-the-art-sonic performance in a rarely seen design package noted for both its advanced construction and its understated beauty. Judging from highly positive reactions to the Marantz Music Link Series by audiophiles both internationally and on American shores, Marantz has achieved their goal.
The Marantz Music Link Series consists of the Marantz SC-22 active line-stage control amplifier, the Marantz PH-22 phono preamplifier, and the Marantz MA-22 and Marantz MA-24 mono-block amplifiers. The Marantz SC-22 control amplifier and optional Marantz PH-22 phono amplifier are designed to serve as the "front-end" of the Music Link audiophile system. Users can choose between the 50-watt Marantz MA-22 Class AB mono power amp, or the 30-watt Class A mono Marantz MA-24.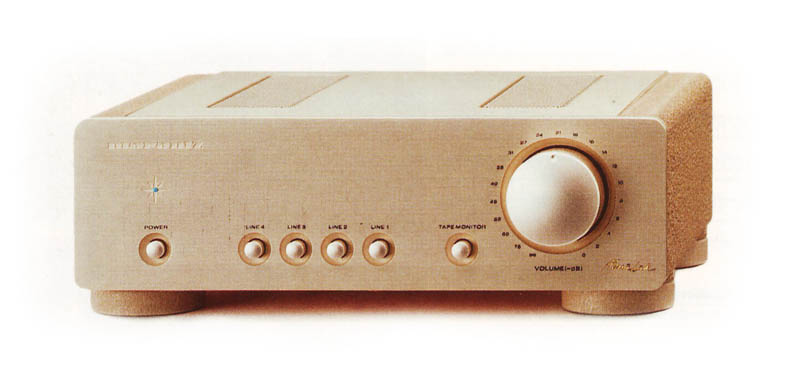 Features
System source selector for Marantz Music Link Series
Straight-line preamplifier design
Discrete Class A circuit topology
Half size chassis and case Four line-level inputs with additional tape monitor loops
High specifications ALPS master volume control potentiometer
Toroidal power supply with mechanically isolated power transformer
Audiophile gold-plated connectors
Normal and phase-inverted outputs for bridging stereo or mono power amplifiers
Outputs are transformer-coupled for balanced operation
Specifications Marantz SC22:
Frequency response: 20Hz - 20kHz, ±3dB
Output voltage: 1.5Volts
Input sensitivity: 280mV
Input impedance: 47 k-ohms
Total harmonc distortion (20Hz - 20kHz): <.01%
Signal-to-noise ratio: 105dB
Crosstalk (1kHz): 85dB