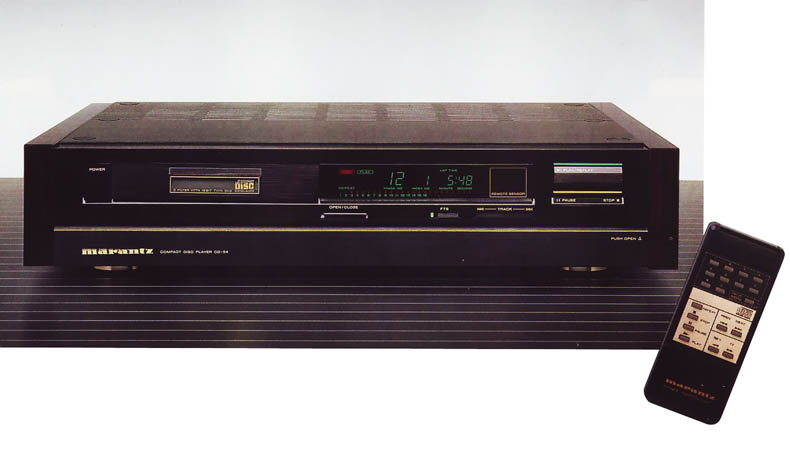 Specifications Marantz CD-94
Audio Characteristics
Number of channels: 2
Frequency response: 2-20.000Hz +/-0.1dB
Digital to analogue conversion: 16 bit 4 times oversampling
Dynamic range: better than 96dB
Signal to noise ratio: 101dB
Channel separation: Better than 100dB (1000Hz)
Total harmonic distortion: 0.0015% (1000Hz)
Wow & Flutter: Unmeasurable (quartz accuracy
Error correction system: CIRC
Audio output level: 2 Vrms

Optical Data Read System
Laser: AlGaAs semiconductor laser
Wave length: 780nm

Signal format
Smapling frequency: 44.1 kHz
Qunatization: 16-bit linear/channel

Power supply Section
Power requirements: 220/240 V AC, 50/60Hz
Power consumption: Approx.30W
Fuse capacitance: 0.2A

Cabinet and Others:
Dimensions (wxhxd): 462x86x333mm
Weight: Approx: 10kg

Provided accessoires
Remote control unit (RMC-94): 1
Battery (AA/r06): 2
Audio connection (RCA pin-jack) cord: 1 pair

Compact discs
Diameter of disc: 120mm
Thickness: 1.2mm
Rotating direction: counterclockwise (viewed from the laser pickup side)
Scanning velocity: 1.2-1.4m/sec
Revolution (spindle) speed: 500-200rpm
Playing time (theoretical) 74 minutes max. (stereo)
Track pitch: 1.6 um
Material: Plastic (polycarbonate)




The prestige 800 pound Marantz CD94 is completely different in appearance, construction and price from previous Marantz CD players, though the technology at its heart is still fundamentally familiar. It is manufactured in Japan (in what was a Marantz factory before Philips takeover) and offers deluxe build quality and certain features designed to enhance sound quality. Much of the reason behind the pricetag can be identified by lifting the carton: it is much heavier than other current models because it incorporates a number of expensive metal diecasting in place of the plastics mouldings used extensively in the Hasselt range.

The styling has been carefully arranged to promote ease of use, seperating the controls into two groups. The main operational controls (play, stop/pause, skip, open/close, plus FTS select) are to the right and below the quite elaborate display. Subsidairy facilities including a 10-digit keypad and headphone socket are tucked behind a hinged cover, permitting audible scan, repeat, display mode, programming etc. The rear panel has sockets for optical and electronic digital data outputs besides normal stereo audio, and the full remote control can be interlinked with other compatible system components.

The extra build quality undoubtedly promotes confidence in use. The main frame and the disc playing chassis are both substantial metal die-castings, with the latter spring-decoupled for vibration suppression. The top cover has been damped and the heatsink at the rear likewise designed to be inherently non-resonant.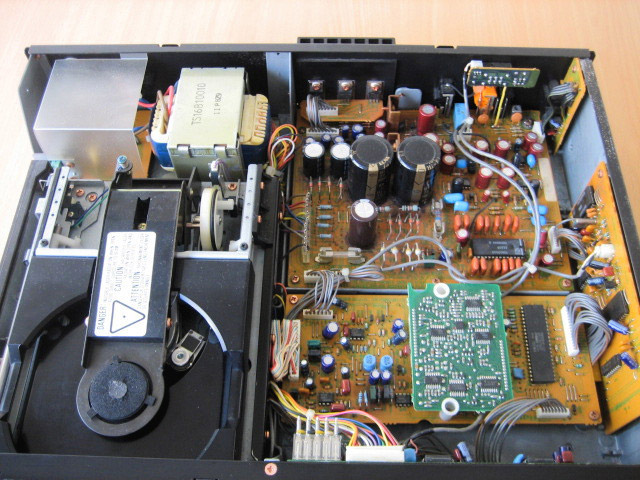 Lab report
The internal technology is the familiar Philips 16-bit 4x oversampling with separte DACs, powerful error correction and digital filtering. Additional attentiono here is paid to power supplies and audio circuitry, with extra internal screening. The frequency response was ruler flat, with the merest suggestion of HF ripples under our large scale magnification. Channel phase difference was zero due to the twin DACs, while channel balance was held to normal commercial tolerances. Seperation and distortion figures were truly outstanding, though the IM spectrogram does show some ultrasonic spuriae.
Error correction was very good on all tests, and resistance to shcok or vibration likewise. Mechanical noise was very low, and track acces time about average. The output level met the format sepcification, from a usefully low source impedance. Electrical noise levels were state-of-the-art, but the 0dB white noise test showed slight rounding at the top of the waveform, ultrasonic spuriae could have been lower, and the practical low level resolution was only 15 bits, a rather average result for an expensive machine.

Sound quality
The efforts that have gone into creating this machine have not been wasted, the expense being substantially vindicated by a very good sound quality rating. Retaining the fundamentally fine character of this 16-bit 4x oversampling chip set and losing nothing in dynamics, drama and bass drive, the Marantz CD94 is also clearly more restained, refined and good mannered. Giving a dependable sound that is easy to listen to, stereo perspectives were very good and the midband notably neutral, though there was a hint of laziness in the bass and treble.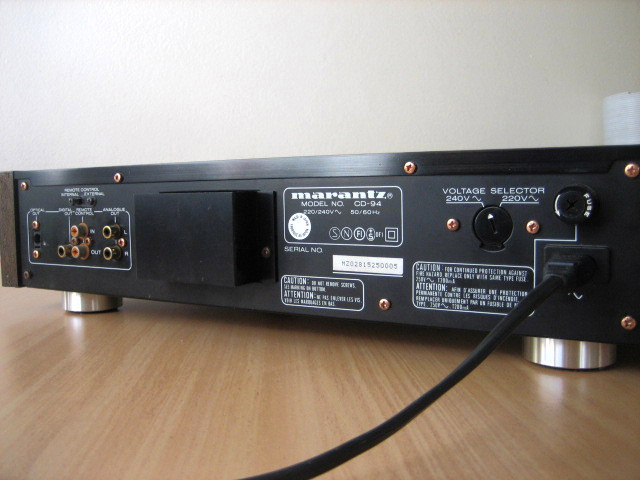 Conclusions
The Marantz CD94 high build quality and good objective and subjective performance obviously deserve confident recommendation. The value for money is perhaps not quite in the 873LE league, but it is fair to suggest that the far higher build quality of the mechanism in particular should result in a more consistent performance over time and from smaple to sample.

Test results
Channel balance: 0.16dB(20Hz), 0.16dB(1kHz), 0.14dB(20kHz)
Stereo seperation: 101.3dB(20Hz), 111.6dB(1kHz), 112.6dB(20kHz)
Channel phase difference: 0(20Hz), 0(1kHz), 0(20kHz)
Total harmonic dist, 0dB: -92.7dB(20Hz), -88.7dB(1kHz), -90dB(20kHz)
Total harmonic dist, -10dB: -(20Hz), -84dB(1kHz), -(20kHz)
Total harmonic dist, -60dB: -(20Hz), -50.4dB(1kHz), -(20kHz)
Total harmonic dist, -80dB: -(20Hz), -20.4dB(1kHz), -(20kHz)
Intermodulation, 19kHz/20kHz, 0db: -91.6dB(20kHz)
Intermodulation, 19kHz/20kHz, -10db: -91dB(20kHz)
Frequency response, left channel: +0.01dB(20Hz), 0(1kHz), -0.2dB(20kHz)
Frequency response, right channel: 0dB(20Hz), 0(1kHz), -0.18dB(20kHz)
Signal-to-noise, 20Hz-20kHz unweighted: 109/108dB
Signal-to-noise, CCIR/ARM, 1kHz ref: 108/106dB
Output level, 0dB, left/right: 2V
Output impedance: 56ohms
De-emphasis: 1kHz: 04.dB; 5kHz: 4.6dB; 16kHz: 93.dB
Track acces time: 3,5sec
Error correction capability: >900um gap, >800um dot
Mechanical noise: very low
Spuriae up to 100kHz: -87.1dB
Resolution at -90dB: -102/-104dB
Headphone socket: yes(variable output) 207ohms
Dimensions(wxhxd): 46x36x10.5cm
Estimated typical purchase price: 800 pound