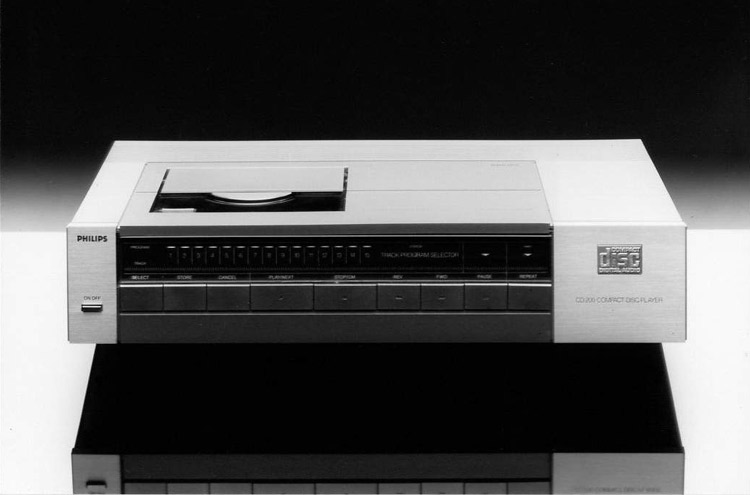 The Philips CD200 - ahead from the start
The arrival of Compact Disc
The time has come. Compact Disc Digital Audio is here. The new "miracle" system for enduringly better sound and computer-age operating convenience.

Pure, perfect sound
Compact Disc Digital Audio is a totally new sound source; fully digital, and astonishingly accurate. From the master recording right through to the stereo signals that feeds the audio amplifier - nothing is added, nothing is taken away.
From the lowest frequencies to the highest levels, the sound that is heard is an exact copy of the sound that was recorded; no detectable noise, no measurable wow and flutter.
Dynamic range is exceptional, frequency response is mirrorflat, and overall channel separation and phase linearity are extremely good.
In a word, Compact Disc sound is purer - and you can certainly hear the difference.




Sound in shining armour
The digital recording is sealed inside the shining silver disc - safe from scratches, fingerprints and dirt. The pick-up is a laser beam. It could not wear out a disc if it ran for a hundred years. Special modulation (EFM) and error correction (CIRC) systems optimise signal handling and further suppress the effects of marks and scratches.
Thus, pure Compact Disc sound is everlasting sound. In normal use, CD recordings far outlast any conventional record.

Automatic control and direct access
Compact Disc introduces a totally new concept of ease, convenience and programmability. The digital codes on the record, detected in the player under fingertip control, and introduce unprecedented programming potential. Philips use this potential to great effect in the Philips CD200.

Plentiful software
Compact Disc already has big support from the recording studios. Many familiar labels appear on these shining silver discs, so that a wide choice of music from the world's leading artistes is available. And choice will expand fast as more and more CD players come into use.




The best sound ever
The CD200 is more than just a Compact Disc player; it offers the highest sound quality, the greatest operating ease and facility, and the best reliability - because Philips have the priceless advantage of the longest experience in Compact Disc technology.

Rack top or free-standing
The slimline CD200 is 420mm wide - the standard width of most of today's system components. So it makes a perfectly fitting crown for a HiFi rack.
Alternatively, it is an exciting focus of attention as a free-standing HiFi component.

Connects to any sound installation
The CD200 connects directly to any sound installation with a line input (CD/TV, AUX, TAPE or TUNER). It will bring the very best out of any installation, but the better the sysyem, the bigger the advantage gained.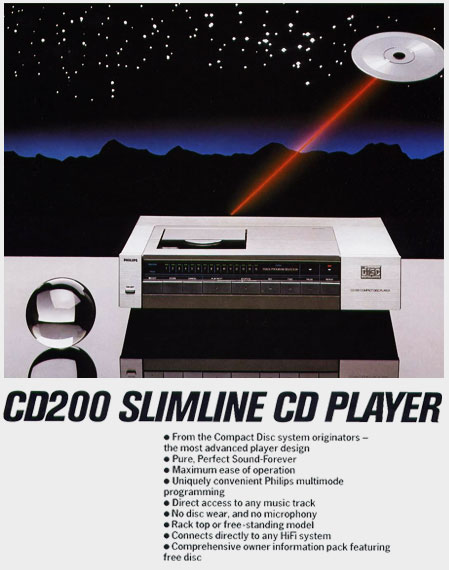 Specifications Philips CD200
Playback system: Compact Disc Digital Audio
Audio performance: (20Hz - 20kHz)
Frequency range: 20 hZ - 20kHz, ±0.3dB
Phase linearity: ±0.5º
Signal to noise ratio: >90dB
Channel separation: >90dB (at 1kHz)
T.H.D. (incl noise): <0.005%, <0.004%(at 1Hz)
Intermodulation distortion: <-86dB(at max. output level)
Out-band rejection (frequencies 24kHz): >50dB
Wow and flutter: Quartz control precision

Optical read-out system
Laser type: semiconductor Al Ga As
Numerical aperture: 0.45
Wave length: 800nm

Output
Max.output level (at MSB): 2V rms, typical
Output impedance: <100 ohm
Minimum load impedance: 10k ohm

Power supply
Mains voltages: 220V ac
Mains frequencies: 50 and 60Hz
Power consumption: 27W approx.
Electrical requirements: IEC

Cabinet, general
Material/finish: polystreme, with extruded aluminium profile
Dimensions (wxhxd)
cabinet with lid closed: 420x86x300mm
cabinet with lid opened: 420x192x300mm
Connection cable: with moulded Cinch plugs
Weight: 6kg approx


This list shows the introduction date of Philips cdplayers.



Philips CD100: 1982
Philips CD101: ?
Philips CD104: 1984
Philips CD110: ?
Philips CD130: 1991
Philips CD140: 1991
Philips CD150: 1985
Philips CD151: 1986
Philips CD160: 1986

Philips CD200: 1983
Philips CD202: 1984
Philips CD204: 1984
Philips CD207: 1987
Philips CD210: 1990
Philips CD230: ?
Philips CDC250: 1991

Philips CD300: 1983
Philips CD303: 1984
Philips CD304: 1984: 1985
Philips CD304II: 1987
Philips CD320: 1991
Philips CD335: 1992
Philips CD345: 1992
Philips CD350: 1985
Philips CD351: 1986
Philips CD360: 1987
Philips CD372: 1988
Philips CD373: 1988
Philips CD380: 1989

Philips CD450: 1986
Philips CD460: 1987
Philips CD471: 1988
Philips CD472: 1988
Philips CD473: 1988
Philips CD480: 1989
Philips CD482: ?
Philips CDC486: 1989

Philips CD500: ?
Philips CD502: ?
Philips CDC550: ?
Philips CDC552: 1992
Philips CDR560: 1999
Philips CD582: 1989
Philips CD584: ?

Philips CD600: 1990
Philips CD604: 1991: 1992
Philips CD605: 1991
Philips CD610: 1990
Philips CD614: 1991: 1992
Philips CD615: 1991
Philips CD620: 1990
Philips CD624: 1991
Philips CD630: 1989
Philips CD634: 1991
Philips CD640: 1987
Philips CD650: 1986: 1987
Philips CD660: 1987
Philips CD670: 1987
Philips CD680: 1988
Philips CD690: 1993
Philips CD692: 1993

Philips CD710: 1994
Philips CD711: 1995: 1996: 1997: 1998
Philips CD713: 1999
Philips CD720: 1994
Philips CD721: 1995: 1996: 1997
Philips CD722: 1998
Philips CD723: 1999
Philips CD740: 1994: 1995
Philips CDC745: 1994
Philips CD750: 1994: 1995
Philips CD751: 1995: 1996: 1997: 1998
Philips CDC751: 1996: 1997
Philips CDC752: 1998: 1999
Philips CD753: 1999
Philips CDR760: 1999
Philips CDR765: 1999
Philips CD771: 1988
Philips CDC775: 1999
Philips CD780: 1989: 1990
Philips CD781: 1989: 1990
Philips CD782: 1988: 1989
Philips CD820: 1989.
Philips CD824: 1990.
Philips CD830: 1989.
Philips CD834: 1990.
Philips CD840: 1990
Philips CD850: 1991
Philips CD850II: ?
Philips CDR870: 1998
Philips CDC875: 1989
Philips CDR880: 1999
Philips CDD882: 1989

Philips CD910: 1993
Philips CD911: 1994 1995 1996
Philips CD916: 1995
Philips CDC916: 1994 1995 1996
Philips CD920: 1993
Philips CDC925: 1993
Philips CD926: 1995 1996
Philips CDC926: 1995
Philips CD930: 1993
Philips CD931: 1994 1995 1996
Philips CDC935: 1993: 1994
Philips CD936: 1995: 1996
Philips CDC936: 1995
Philips CD940: 1993
Philips CD950: 1993
Philips CD951: 1994 1995 1996
Philips CD960: 1987 1988