Philips CD100 cdplayer with original box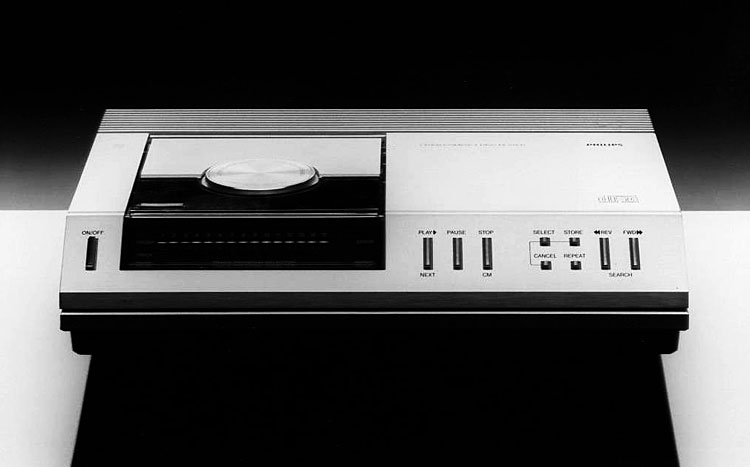 This is the simplest CD player in a range which I Philips plan to introduce, and indeed they claim that it is the smallest on the market (being identical, except for external finish, to the Marantz CD-63). It is a top-loader and therefore not entirely suited to stacking in a rack or minisystem—unless it can be located at the top. The disc compartment lid is mechanically latched but will operate the stop mechanism if pressed to open during play. Inserting and removing the disc is easy, if not quite so simple as on the glidingdrawer front-loading types.
The sloping front panel carries basic, but well laid-out, controls and a sensible display scheme. The latter consists of green bar-lights (1 to 15) to show the number of tracks on the disc (or in the selected programme) with a second row of lights to indicate the track being played. The mains on/ off button is to the left of the display panel and on the right are buttons for play/next track, pause and stop/clear memory. Then follow four small buttons for the programming and repeat functions. Each track to be stored (up to 15) must be selected by pressing the `select' button the requisite number of times (or holding it down while it hops through the numbers sequentially) followed by the 'store' button to enter it in the memory. This can take a fair amount of time, depending on the sequence desired, but works smoothly enough—and at least the track selection is sequential and so, if track 12 is to follow II, for example, a single tap on the select button will move the 'select' function to 11 As well as building up a programme sequence by this 'add-in' procedure, it is possible—and preferable where most of the tracks are to be included in their normal order—to adopt a 'take out' procedure using the 'store' and 'cancel' buttons together. The 'repeat' button is self-explanatory in that it will cause the machine to repeat the whole disc or the sequence already programmed. However, repeating a single track can be initiated by selecting the track number and pressing 'play' once again.
Cue searching involves use of the rewind and fast forward buttons but, since there is no sound during searching, trial and error is necessary. Naturally the process can be speeded up if the desired track is first located by normal means, and searching carried out from there. The pause function interrupts play, though the disc keeps spinning, and restart from the same spot can be triggered by pressing either the pause or start button.