Hi-fi world March 2001

Right now, Marantz's SA-1 represents the state of the art in high resolution digital audio thinking. Compact Disc has been around for some twenty years now, during which time it has been refined and streamlined to the very edge of its performance envelope. Marantz has proved particularly adept at squeezing a quart out of CD's proverbial pint pot, thanks to the redoubtalbe talents of its engineering figurehead Ken Ishiwata. Now, the man has turned his attentions to something altogether bigger and better, Super Audio Compact Disc.

SACD was announced some three years back. Using single sided, dual layer (SACD & CD) or single layer (SACD only) discs with Sony's proprietary Direct Stream Digital coding system, it has a number of theoretical advantages over Pulse Code Modulated CD and DVD Audio formats, not least of which it is very wide frequency range without the need for dramatic high band filtering.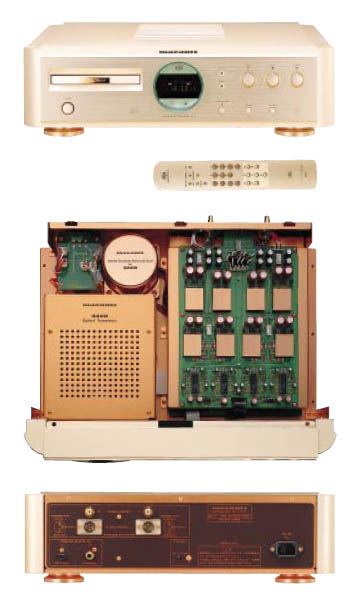 Running at a sampling rate of 2.8224MHz, it offers a theoretical frequency response from DC to over 100kHz, with greater than 120dB of dynamic range. The Marantz SA-1 is Marantz's first cost-no-object attempt at getting the best from the new format, and is a pretty impressive beast by any standards, even the company's own. Weighing in at nearly 20kg, this slickly finished front loader boasts machined aluminium-alloy casings painted in the company's trademark champagne gold. Large Play, Stop and Pause buttons dominate the fascia, while there are smaller switches for SACD/CD and display on/off, Open/Close and Track Advance/Back. The rear panle has two single-ended RCA phono sockets, the ubiquitous (for Japanese high end audio, at least) pair of balanced XLRs, TOSLINK and coaxial digital outputs (only for use when playing standard Red Book CDs), an IEC mains socket, plus a 'Standard/Custom' filter switch (a la Sony SCD-1). the 'Standard' setting curtails the Marantz SA-1's ultra high frequency output, which you get when the 'Custom' setting is selected. As this can upset some partnering amplifiers and loudspeakers, Marantz recommend the former for general use.
Inside the beast we find a veritable feast of digital audio goodies. The whole chassis is sturdily built, with internal resonance damping and electrical noise isolation as its goal. To witm there's a copper-plated double layer steel bottom plate and shock-absorbent mounting feet, plus a large shielded toroidal transformer which boasts 'Super Code Ring' technology, housed in a cylindral copper cage. There's also an additional, smaller transformer to drive the fluorescent display. As per usual Japan high end practice, the transport boasts a diecast aluminium disc tray using zinc parts. The dual lens pickup assembly reads both CD and SACD. The TDA1547 1-bit Dual Bitrstream DACs (two per channel), and the analogue section has six dual Marantz HDAM (Hyper Dynamic Amplifier Module) op-amps in differential configuration, plus two in the unbalanced output.

CD sound
Even with standard 16/44 CDs, this player is very special. Somewhat predictably, the first disc that went in the slot was 4 Hero's 'Escape That', a song i've heard on practically every high end CD player and turntable around, from Linn's CD12 to immedia's RPM-1. At this point, i must confess some suprise. You see, although i've read rave reviews of the Marantz SA-1's great SACD performance in all manner of US, Japanese and European magazines, i was'nt really expecting to hear Marantz's best ever CD player. Well, now i have and it just happens to play SACDs too.
Tonally, it is a riot. Its low frequency prowess is as if it was coupled to Mother Earth herself, its midband as lucid as Keats' ode 'To Autumn', and its treble response tangible enough to get the bats singing in the trees. Unlike Marantz's top silver disc spinner, the Marantz CD-7, it doesn't rose tint everything it plays. This means that if a piano or human voice is poorly recorded, it will say so instead of glossing over the problem. The upshot is a remarkably transparent player with a fantastically wide and varied palette of tonal colours which it deploys without so much as a second thought. To wit, 'Escape That' sounded closer to its superb vinyl pressing than i've ever heard - open, airy, sweet, spacious and engaging.

Okay, so it's one of those louche high end CD players that lull you into thinking you're listening to half decent turntable, then? A kind of Copland CDA289 on steroids, right? Wrong, because when it comes to rhythms, dynamics and transient attack, the Marantz SA-1 is up there with the likes of Niams' CDX - which is no mean feat. Leading edges are meat and drink to this Marantz - with a natural affinity for starting and stopping on a sixpence, music just sounds faster. Couple this to its talent with small dynamic inflections - another Niam-like trait - and it can follow the complex drum patterns of 'Escape That' with wonderful alacrity. Information retrieval is no less seminal.

As i run the gamut of my CD collection, the Marantz SA-1 remained creditably consistent. It's as open and transparent as the CD format permits. You couldn't call it 'glass clear' because olde worlde sixteen bit just doesn't have that on the menu, but it's as good as you'll realisatically encounter. Rarely have i come across such an addictive combination of musicality, tonal accuracy and sheer hairy-chested, muscular grunt.
Is it the best CD player in the world, as others have said? No. I'm sure if i'd go that far, simply because i recently had the pleasure and the privilege of laying my lugholes on Linn's latest spec CD12. If anything relegates the Marantz to runner up status in the sixteen bit stakes, this is it. But then again, the Linn costs over twice as much and doesn't play SACs - yet.

SACD sound
Okay, so it's twenty four carat, copper bottomed (literally) stunner as far as Compact Disc is concerned, but what about its Super Audio Compact Disc replay abilities? First, if you've tried to buy SACD discs over the counter it may not have escaped your notice that they're rather hard to get hold of so i wasn't in a position to put the Marantz SA-1 up against everything in my vinyl and CD collections. But judging by the limited amount of discs i was able to try, Marantz's SA-1 could just be what hi-fi world has been wating for. Marvin Gaye's 'Midnight Love' - not a state of the art recording even back in 1982 - is hardly the audiophile pick of the current SACD releases. What it is good at, however, is ripping replay equipment to shreds. Most turntables i've played the vinyl pressing on make it sound blurred and compressed - only when you go up the Linn Lingo or Michell QC levels do you start to hear things as the producer intended. Ditto the CD - whose modest coding system struggles to sift the music out from the silt. Four bars of 'Sexual Healing' on the Marantz SA-1 however, and i was grinning ear to ear.
From the opening beats of that horrid 'period' Roland drum machine, you're aware that you're listening to something special. Rather than being just another generic drum machine, what you get is something with all the finesse of a 'Speak and Spell' toy - which is exaclty how those early Dr.Rhythms sounded!
Then, seconds later, one of the sweetest smoothest, silkiest voices ever committed to magnetic tape cuts in. The contrast between the song's gravel-like electronic percussion and the creamy patina of the singer's voice is utterly arresting, and something you'll never hear unless you run high end vinyl. You have now entered the SACD zone.

The space around Marvin's voice is incredible. Hanging out of the speakers yet suprisingly far back in the mix - those drums are beating away forcefully in front - you begin to realise how deliciously lucid this new format can be. Combining fantastic rhythm snap - everything about the Marantz SA-1's sixteen bit performance holds true for SACD, and then some - with a delightfully organic nature. it simply takes you closer to the music.
It doesnt stop there though, because even in that uncouth electronic percussion, you can hear tiny dynamic inflections that sixteen bit CD completely misses. It's as if the drum programming has all been changed, and the producer has kept the patterns but shifted the accents. Suddenly, something that previously sounded as if it was played on a Casio calculator lives and breathes! SACD is packed full of suprise and delight. Whether it's heaaring guitar strings decay for bar after bar - rahter than just vanishing into the electronic ether - or delighting in the wonderfully thick and full bass guitar sound, it's a true festival of the senses.

Up the ante to a decently recorded slice of DSD like Jacintha's 'One for my Baby from 'Autumn Leaves: the Songs of Johnny Mercer' and you hear the Marantz SA-1 really strut its stuff. The best way to describe it is like this: At the end of the day when you've a drink in one hand and a cigarette in the other, on which format would you prefer to spin your previous jazz discs - LP or CD? Previously i wouldnt have given it a second thought - and out would come the vinyl. Now though, SACD comes very close second, even if it doesnt quite win the day. Effortlessly dynamic with a noise floor that goes down to your listening rooms very foundations, ive rarely heard a drum kit, electric guitar, piano and double bass sound so eerily, spookily life-like. Where CD fails most dismally is its reproduction of female vocals. Its coding spec is simply too ragged in the sensitive upper midrange region into which these fall, and the result is a dulling and coarsening of what - in some cases at least - can be one of the great wonders of the world. Again, high end vinyl tears ahead of CD here, and again SACD follows very close behind. If a moving coil cartridge of the calibre of say, Linn's Archiv has just one drop more body presence, then the Marantz makes up for its with its gobsmacking transparency and lack of coloration. Sweet if the occasion demands it or strident when called to be, the Marantz SA-1 is incredibly even handed whatever you throw at it.

I ran through a selection of SACDs and on every track the Marantz simply behaved like an optically perfect window on the recording. To its eternal credit, it isnt showy or in-your-face - Sony's SACD players are more conspicuously 'hi-fi' in my humble opinion. It just opens the music up and lets you in. Ultimately, i dont think its got the best vinyl replay systems licked yet, but its one hell of a first attempt.

The only critism is that it sounds just one scintilla too 'cleanly etched', which is of course how digital distortion manifests itself to analogue ears. Nevertheless, its still plain bloddy magic. Even if you cant afford to buy one then try your best to hear it, if only to remind yourself why youre into hi-fi music!

Specifications Marantz SA-1 SACD player
Optical readout system: Wavelength 650 nm
Laser: AIGaAs
Channels: 2 channels
Frequency range (SACD): 2 Hz - 100 kHz
Frequency response: 2 Hz to 50 kHz (±3 dB)
Dynamic range: 109 dB
Sampling frequency: 2.8224 MHz
Total harmonic distortion (1 kHz): 0.0012%
Wow and flutter: Precision of quartz

Analog output
Output level (unbalanced): 2.2 V
Output level (balanced): 3.9 V

General
System: SACD/CD
Applicable discs:
CD
CD-R
SACD
Hybrid CD/SACD

Power requirements: 120 V, 60 Hz, 33 W
Dimensions H x W x D: 133mm x 458mm x 365mm
Weight: 39 lbs./17.7 kg