Hi-fi World september 2000

With a chipset culled from the mid-nineteen eighties, Marantz CD-7 has to be the world's first retro Compact Disc player. David Price puts on his stonewashed jeans and cues up his Rick Ashley CDs...

To me Marantz's new CD-7 is most striking for what it represents, which is the tacit acknowledgement that progress isn't necessarily a good thing. Indeed often it is simply what happens when companies want to sell you things at cheaper prices.

Bitstream DACs are a case in point. True, they did rid the listening public from the scourge of digititis - bleeding ears and headaches resulting from listening to CD for over ten minutes - but it wasnt all positive.
Where multibit stripped the wallpaper at one hundred paces, Bitstream stripped the excitement even from the most emotive music.
Looking to pen a statement CD player from Marantz, designer Ken Ishiwata showed quintessential Japanese pragmatism in electing to return to multibit. So what if he stuck two fingers up to all those press conferences, lectures and advertisements celebrating Bitstream virtues?
The problem was that one-bit simply wasnt misucal enough; the answer was to go back to something that was - Philips' TDA1541A continuous calibration DAC.
The result is the £3500 Marantz CD-7, using a 'Double Gold Crown' version of the aforesais digital convertor chip doubled in differentail pairs for maximum linearity. Working in conjunction is a brand new bespoke MZ777f digital Linear Music Filter, which is effectively two Motorola 56000 processors running the source code of Philips' SAA7220 digital filter chips. So although the player doesn't physically use SAA7220S (which partnered Philips original TDA1541- based players), its DSP chip emulates them to recreate their four times oversampling as well as offering three switchable algorithmes.

What of the transport i hear you cry? Sadly not even the cleverest microprocessor can emulate the heroic data retrieval talents of Philips' classic nineteen eighties swing-arm CDM9. So Ken decided to get his soanners out and re-fettle a propritery CDM12.3 disc spinner, selecting a metal chassis version and rebuilding it to his specifications, includigin diamond milled stainless steel slide bars for slick disc loading.
This, done, it was time to plug in the soldering iron for some vintage Ishiwata- style tweakery. No less than 14 selected Marantz HDAM (Hyper Dynamic Amplifier Module, if you must) op-amps are used, and the power supply has been breathed on with Shottky diodes, discrete transistor regulation and an ultra low noise ring-core toroidal transformer. Audiograde selected components are in abundance, the copper- plated diecast chassis and casing gets anti-resonance fixings and vibration damping feet.



In the best tradition of Japanese high end, the Marantz CD-7 features sonically superior balanced XLR outputs as well as the usual RCA phonos, and a choice of either optical of coaxial digital outs. Unusually though, the player also has a digital in, meaning it can operate as a standalone DAC too. Working at up to 20bit, 48kHz oversampling, one obvious application is high end computer soundcards or DAT recorders - considering all the trouble Marantz have gone to get these DACs, it's a peach of an idea to extend their application. Finally, you get all the usual play an repeat modes as seen on every other CD player under the sun, and Marantz's tiresome fluorescent display - thankfully you can turn the thing off!
It's an impressive spec then, but so it should be for the cost of a late nineties Fiat Punto. In the flesh the look of the Marantz CD-7 bears out its heavy engineering. It's virtually arresting to say the least - such a wide expanse of exquisitely milled champagne gold coloured aluminium alloy could never be anything but. All the more shame then that Marantz's latest and greatest feels clumsy to use. The transport butons are as dead as a Sinclair Spectrum keyboard, and the drawer mechanism is considerably slower and more noisy than my ten year old Sony CDP-X77ES. Likewiser the disc tray has some of the flimsiness of the old CD-67 series - price rivals from Brits like Linn, Niam and Meridian beat it hands down in this respect. That swanky remote almost makes up for it though - it's a true luxury item. If some aspects of the Marantz CD-7's build aren't quite up to class best, the same can't be said of its audio performance. This player has true star quality, with an intriguing combination of obvious strengths and weaknesses. Essentially it's an extremely musical and engaging listen, with particular success in the midband where it sings like bird. In other respects like neutrality, soundstaging and bass extension, the Marantz is less brilliant.
Funnily enough it really reminds me of a Linn Sondek LP12 turntable. Feed it any disc you care, from electro-funk of Herbie Hancock's 'Future Shock' to the broody rock of smashing pumpkins 'Adore' and it goes straight for the rhythmic jugular in its own special way. Whereas Niam's CDX frames its formidable percussive talents around bass guitars and bass drums, the Marantz CD-7 is more interested in what's going on in the mid-band. Somehow it pieces togehter all the disparate rhythmic clues - from the phrasing of the voice to the interplay between snaers and hi-hats - to make songs move along with a fantastic sense of purpose. Rather than ambling, you get a sense of the song's beginning, middle and end, with each part working toward the next. It's a compulsive listen with a dynamic midband that jumps into the groove of the song and sucks you in. Single ended-triode users will know what i mean.
In this respect it's virtually unmatched. Play dense, upbeat, techno, like K-Klass's 'Rhythm is a Mystery' and you'll hear the snares cutting through the mix like a knive through butter, allowing the Marantz CD-7 to rocket through the song with aplomb. Give it the slow, sparse subtle rhythms of Kraftwerk's 'Expo 2000' and it locks onto the counterpoint between the sequenced, arpeggiated keyboard runs and the electronic rim shots, and then it's off. What a great way to play music! What makes this machine such an interesting conundrum is how it mixes this 'boogie factor' with the silkiness of the best one-bit designs. Hear the ride cymbals in Corduroy's 10:28 from Shibuay' and you're left in no doubt that this is a very refined silver disc spinner. Rarely - if ever - have i heard such sweet highs issuing from CDs. Likewise, bass guitars are both fast and rich sounding - traditionally it's one or t'ohter, as the two extremes of Niam CDX and LFD Mistral prove. The downside is that things sound rather 'samey' after a while - the Marantz CD-7 is coloured but not colourful. Everything gets a soft amber glow regardless of whether it actually has, or needs one. Although a close of autumn sunshine is no bad thing for a CD player, it ultimately becomes frustrating. For example, the Marantz simply smoothes over the hard, cold, grit in Kate Bush' voice as she sings 'Feel it' from 'The kick inside' - it's all a bit too Barry White. As a palliative for hard, transistory systems it's great, but you'd expect a player this expensive to be used with transparent ancillaries.
Likewise, the Marantz CD-7 is no superstar at soundstaging and image location. Compared to most Bitstream designs you get the sense of the far left and far right of the soundstage being sqaushed towards the centre. Nor is front-to-back imaging a forte. Instead, instruments hang around the plane of the speaker and never venture out or drop back too far. Within the soundstage's slightly curtailled extremes however, things are nice and tighly positioned. Playing with the switchable digital filters and noise shaping altered things slightly, but ultimately i found myself coming back to filter 1 with noise shaping off - it was simply more listenable.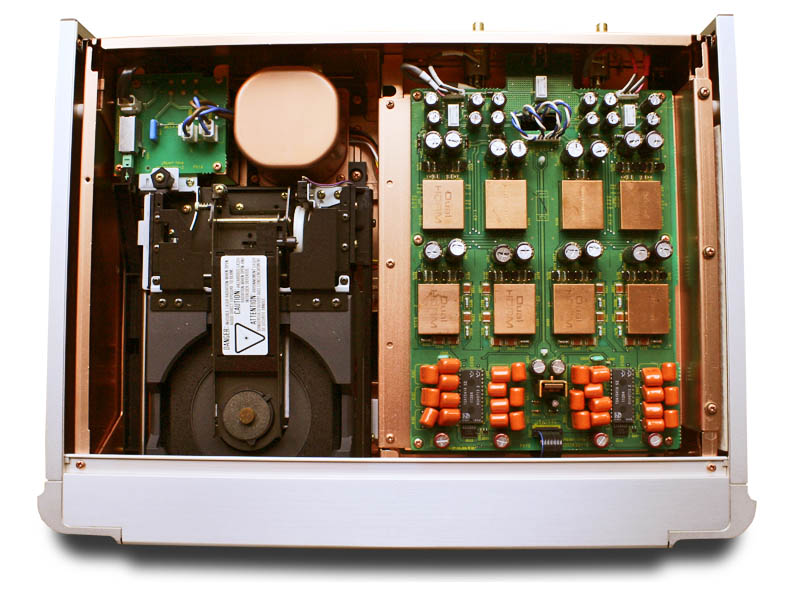 Marantz's CD-7 is one honey of a Compact Disc player, and one i could live with until 16bit digital audio disappears for good. By any standards it's a gifted music maker, but neither is it perfect. Just recently the competition's been getting tough - Arcam's FMj23 CD runs it pretty close in many respects for two grand less, whereas Niam's similarly priced CDX is even more bouncy and rhythmic - if you can stomach its lack of tonal colour. All in all the Marantz CD-7 comes heartily recommended though, and you can bet your last Wham CD that it'll be a future classic.

Specifications Marantz CD-7
Audio Characteristics
Channels: 2 channels
Sampling frequency (CD mode): 44.1kHz
Sampling frequency (D/A mode) 32/44.1/48kHz
Quantization: 16-bit linear/channel
Error correction: CIRC
D/A conversion: 1-bit linear/channel
Wow & flutter: precision of quartz

Optical readout system
Laser: AlGaAs semiconductor
Wavelength: 780nm

Frequency characteristics:
Frequency range: 2Hz-20kHz
Dynamic range: >98dB
S/N ratio: >102dB
Channel separation (1kHz): >100dB
THD(1kHz): 0.002%

Analog output
Output level (cinch Jacks): 2.2V RMS
Output impedance: 250 Ohms

Digital output
Output level (cinch Jack): 0.5 Vp-p/75 Ohms
Output level (optical Jack): -19 dNm

Power supply
Power requirement:
K version: 110 / 220V AC 50/60Hz
/02 version: 230V AC 50Hz
Power consumption: 19W

Cabinet, ect.
Dimension (wxhxd): 454x139x344mm
Weight: 16,6kg

Accessoires
Remote control unit (RC-7CD): 1
AAA (R03) Batteries: 2
Stereo audio cable with cinch pins: 1
AC power cord: 1