dutchaudioclassics.nl is looking for information about the Noreclo 2100 cassette player (introduced in 1971). The appearance looks somewhat similar to the Philips CD100. Perhaps it was a basis for the design of the Philips CD100... Below a picture of the Norelco 2100, courtesy of
vintagecassette.com
.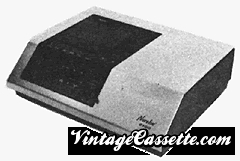 About Norelco:
From the early 1940s, Philco was legally able to prevent Philips from using the name "Philips" on any products marketed in the USA, because the two names were judged to sound similar. As a result, Philips instead used the name Norelco, an acronym for "North American Philips [electrical] Company." Philips continued to use that name for all their US products until 1974, when Philips purchased The Magnavox Company. Philips then relabeled their US consumer electronics products to the Magnavox name, but retained the Norelco name for their other US products. When Philips bought Philco in 1981, Philips was able to freely use the Philips name for all of their US products, but they chose to retain the Norelco name for personal care appliances, and the Magnavox name for economy-priced consumer electronics.
One reason for retaining the Norelco name for personal care appliances was that a shift to the Philips name could have alienated those US buyers who were reluctant to purchase foreign brands. The market share of Philips, a European company, was very low in the US compared to other countries; with their Norelco and Magnavox brands, they were able to get a larger market share.
Eventually, to improve Philips brand recognition in the USA, Philips began branding their shavers "Philips Norelco" in 2005. The Philips Norelco co-branding will allow for an eventual phase out of the Norelco name in favor of the Philips name.